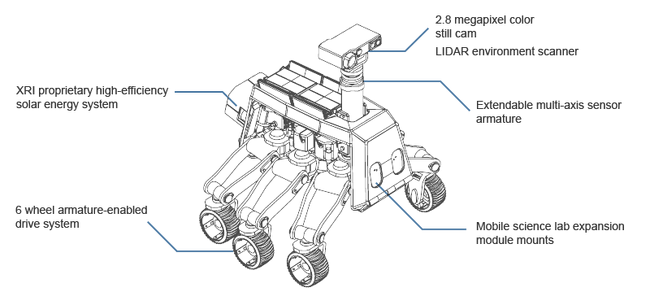 The JR-S rover is the standard low-cost robotic platform developed by XRI for the exploration of extrasolar planets.
Key function: panorama
The JR-S can rotate its camera to produce a 360° view of an area.
Panorama mode can be activated by selecting the Panorama checkbox when you set options for a new photo.
For the best viewing experience, press the Full screen button when viewing in your gallery.
Transmitting panorama data to Earth requires a high bandwidth load and is limited for Volunteer level users. To lift this restriction, consider becoming an XRI supporter.
Triggered by
Edit
After receiving the message Simulation complete. Issuing rover , JR-S Rover  will send you this message
Ad blocker interference detected!
Wikia is a free-to-use site that makes money from advertising. We have a modified experience for viewers using ad blockers

Wikia is not accessible if you've made further modifications. Remove the custom ad blocker rule(s) and the page will load as expected.